State of Wyoming moves towards a more sustainable monetary system with The American CryptoFed DAO becoming the first legally recognized Decentralized Autonomous Organization in the US.
United States, July 5, 2021 /AlexaBlockchain/ – The United States of America moves towards a more sustainable monetary system with its first Legally recognized Decentralized Autonomous Organization (DAO) as the State of Wyoming approved The American CryptoFed DAO.
What happened? On July 1, 2021, State of Wyoming has approved American CryptoFED DAO, the newly formed Decentralized Autonomous Organization as a legal entity as per the revised company law.
A DAO is an organization governed by rules encoded as a computer program to make share decisions. DAOs are controlled by the organization members and not influenced by a central government. A DAO's financial transaction record and program rules are maintained on a blockchain.
Wyoming's Decentralized Autonomous Organization (DAO) LLC Law
On April 21 2021, Wyoming Gov. Mark Gordon signed a revolutionary bill, making Wyoming the first state in the US to pass legislation into law recognizing DAO's as a distinct form of limited liability companies (LLC). The law became effective at midnight on July 1, 2021.
The Law allows Wyoming to recognize DAOs as limited liability corporations (LLCs).
Limited liability corporations (LLCs) are hybrid entities that combine the characteristics of a corporation with those of a partnership or sole proprietorship firms.
The American CryptoFed DAO
The American CryptoFed DAO was established by mSHIFT Inc. on July 1st 2021, a natural evolution from American CryptoFed Inc.
mSHIFT, doing business as AnyWhereMobile, founded in1999 by Scott Moeller, pioneered mobile banking in the United States, and has a long history of working with community financial institutions and local merchants.
Marian Orr, CEO of the American CryptoFed DAO, said:
"Wyoming is the leading digital assets jurisdiction in the USA, and now with this DAO law, Wyoming is arguably the top blockchain jurisdiction in the world. What this means is that creating a true digital currency with mass acceptance is now possible."
American CryptoFed DAO's Governance Token
The American CryptoFed DAO will be governed by its governance tokens issued pursuant to the token definition described in the Token Safe Harbor Proposal 2.0 outlined by SEC Commissioner Hester Peirce. The rules are set by the consensus of the governance token holders and not influenced by a central government, and transaction records are stored transparently and immutably on a designated blockchain.
2-Token Economy
The American CryptoFed DAO describes itself as 2-token economy – Ducat, a stablecoin; and Locke, a governance token.
Ducat – American CryptoFed DAO Stablecoin
An inflation and deflation protected Stablecoin with unlimited issuance, constrained by algorithms targeting zero inflation and zero deflation. Ducat is used for daily transactions and as a store of value. Ducat comes from Swiss Ducat, a private token money, proposed by F. A. Hayek (Nobel Laureate 1974) in his 1976 book Denationalization of Money, page 46.
Locke – American CryptoFed DAO Governance Token
A Governance token with a maximum finite number of 10 trillion in circulation at any given point in time. Locke is used to stabilize Ducat and for holders to participate in network rule and decision making. The name Locke is derived from John Locke whose political-legal principles were reflected in the United States Declaration of Independence.
The American CryptoFed DAO's Mission Statement
"A monetary system with zero inflation, zero deflation and zero transaction costs."
As the DAO becomes fully functional, it will be completely decentralized.
"In time, my role as CEO will vanish, as all governance token holders will be voting on governance matters without the influence of an executive team," Orr said.
The American CryptoFed DAO is expected to bring transparency in governance and cost saving to the state.
"Our digital currency enables municipalities, merchants and consumers to engage in digital transactions without the cost of processing fees," Orr said. "As a former mayor, I can tell you those costs add up fast. This means cities and their constituents will no longer lose money through transaction fees, enabling increased revenues back to municipalities without raising taxes."
State of Wyoming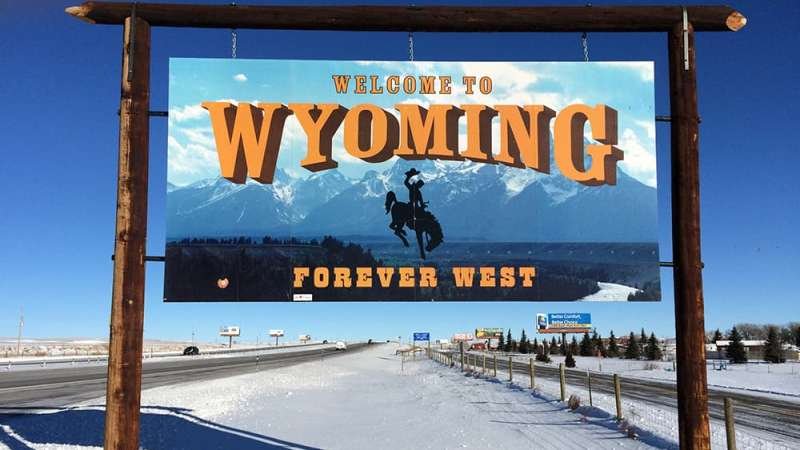 Wyoming is a state in the Mountain West subregion of the Western United States. The 10th largest state by area, it is also the least populous, and the least densely populated state in the contiguous United States. The United States Census Bureau estimated Wyoming's population at 578,759 in 2019.
Wyoming Embracing Blockchain And Crypto Economy
Wyoming has a cheap energy mix and is in the midst of adopting multiple crypto-friendly policies.
Apart from providing legal status to decentralized autonomous organizations, multiple laws in 2018 and 2019 laid the groundwork for a new type of banking charter issued to banks dealing primarily with digital assets.
Because of Wyoming's wave of crypto friendly policies in the past few years, many crypto companies have recently moved their headquarters to Wyoming's capital, Cheyenne, including Kraken, one of the world's largest cryptocurrency exchange.
In March this year, Caitlin Long's Avanti Financial Group raised US$37 million in Series A funding round ahead to launch a digital asset bank. Avanti Financial Group was founded in 2020 as a Wyoming bank to serve as a compliant bridge to the U.S. dollar payments system and a custodian of digital assets.
Commenting on the progress of Wyoming as a blockchain and crypto state, Ravi Kumar, Senior Market Analyst at AlexaBlockchain, said:
"Crypto and digital asset markets is penetrating fast, and there is a tremendous need for both well crafted laws and experienced, competent players in the ecosystem. When i look across the globe, Wyoming is the best place meeting these criteria. It has got visionary leaders on the regulatory front, and innovative blockchain and crypto players are already operational. This is a deadly combination."
Government and Industry Welcome the New Development
The groundbreaking development is well received by government, and business community alike.
Wyoming's Secretary of State Edward Buchanan praised Wyoming's spirit of innovation. Edward Buchanan said, "Wyoming has a reputation for being on the leading edge of business technology, beginning in 1977 with the recognition of LLCs. We are proud to continue this innovation by offering legal protections to Decentralized Autonomous Organizations."
Edward Buchanan also congratulate the American CryptoFed DAO, LLC, to become the first legally recognized DAO in Wyoming.
The Merchant Advisory Group (MAG), which represents 165 of the largest merchants in the United States, also expressed its support to the DAO. John Drechny, CEO of the Merchant Advisory Group, said:
"With the announcement of the American CryptoFed becoming the first Decentralized Autonomous Organization in Wyoming, we can see a path in which merchants will have more choices for payment acceptance."
John Drechny dived into the problem with payment system, and expressed his interest in adopting the digital payment system to bring down costs. John said, "Wyoming is leading the way to create legal certainty in the crypto space, and the American CryptoFed DAO is focused on delivering a fee free payment choice for merchants. We look forward to what the future brings as more competition through innovation is brought to the payment acceptance market."
The Way Forward
The development is likely to inspire more states in the US to follow the trend. The American CryptoFed DAO has become the first legally recognized DAO in the US, but it is not the only DAO in progress.
In March 2021, The City of Reno announced that it was developing its own DAO (Decentralized Autonomous Organization) – 'Reno DAO' – and a token – 'Reno Coin' – on top of the Tezos blockchain network.
Ravi Kumar, Senior Market Analyst at AlexaBlockchain, said:
"This is yet another historic development paving the way towards a decentralized economy. I thank the Wyoming regulators for embracing the change and congratulate the wonderful people of Wyoming. Good Job!"