Submit Press Release – Get your press release noticed by blockchain and cryptocurrency community – get it published on AlexaBlockchain.
Get Featured on the Biggest News Sites Now!
BOOST your results by distributing your Crypto, Blockchain, Metaverse, NFT, and Web3 PR to over 100 million audiences globally.
CryptoPR by AlexaBlockchain – Our Blockchain and Cryptocurrency Press Release distribution service enables you to reach journalists at cryptocurrency and blockchain publications and at media outlets who have a special interest in these beats across the world. In addition, your press release is also distributed on our media circuits, which includes comprehensive online media, the Associated Press, and professional investors and analysts via financial media such as Dow Jones, Bloomberg, Thomson Reuters, and many others.
Guaranteed republication on Yahoo Finance, Google News, Bing News, Benzinga, Street Insider and Morningstar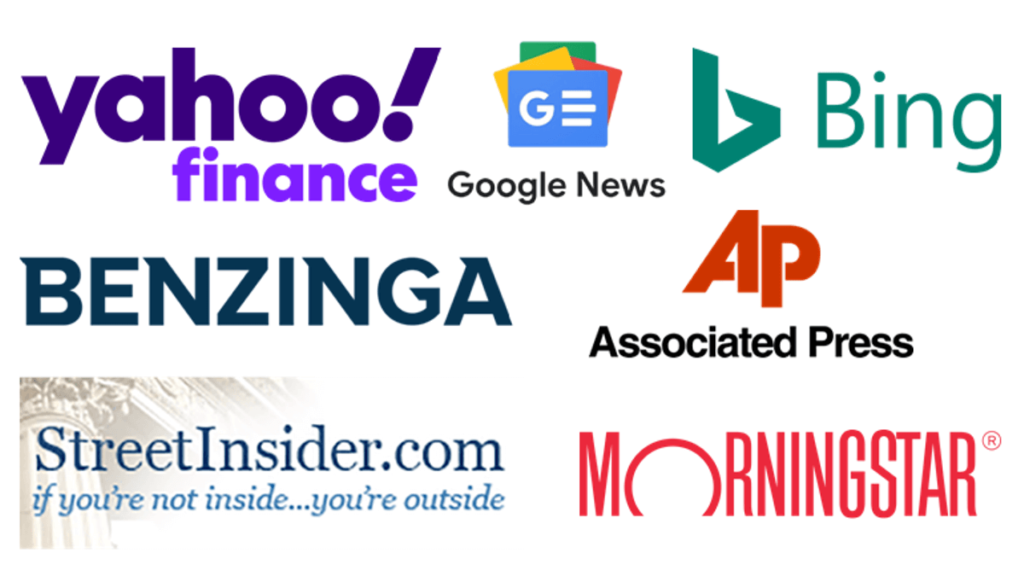 We are able to guarantee republication on Yahoo Finance, Google News, Bing News, Benzinga, Street Insider and Morningstar and press releases distributed by us also get a extensive coverage from other mainstream media as well as crypto-specific sites.
We provide the most extensive audience reach in the crypto and blockchain industry at much lower cost.
Price For Premium Blockchain and Crypto Press Release Distribution @ $1,299 – Introductory Offer – Submit First PR @ $899
Contact us to get more details on this.
Submit Free Press Release
If you are not ready for the global distribution, you can submit on AlexaBlockchain.com absolutely free. Post your press release to reach AlexaBlockchain's global audience! Once you submit, it will be reviewed by our editorial team. If approved it will be published as per the specified date.
Commercial PRs will be published after successful payment. If you are not sure, you can check eligibility of publishing free PR by contacting PR team.
The press release will feature on front page as well as on our dedicated Press Releases page and is pushed to 100,000+ notification subscribers, and to other selected social media channels. The PR will also feature in our newsletters, which reaches 45,000+ subscribers.
Free press release will be only be published on AlexaBlockchain.com
Only paid press release will be distributed to our partners, distributers, and our growing list of affiliates.
Note: We kindly request that you be aware that our services do not include updating/ editing your PR after it has been published. While we can certainly update/ edit it on AlexaBlockchain website upon request, please keep in mind that we would not be able to edit/ update on various websites of our partners, distributors, and affiliates.
After your submission, please wait for an email with confirmation of approval, which will include instructions on how to pay.
We accept PayPal and Wire Transfers. If the payment is done via Wire Transfers, the press release will be published once we receive payment at our end.
Instruction for submitting Press Release and required fields
Please keep in mind the following guidelines if you wish to submit a press release to our editorial team.
AP Style preferred.
Cleary written, addressing pertinent parties and events in the first two paragraphs.
Identify the organization or individual sending the release and include the name and telephone number for the primary point of contact
Date the release and specify whether the material is for immediate use or for release at a later date.
Type "END" at the bottom of the last page.
Elements of a standard press release
Headline/ Title of Press Release: Your high-impact message limited to few words. Ideal length 50-70 characters.
Subheading / Lead: Optional Upto 120 characters; This is a de facto extension of your headline, add some extra information right at the top.
Body/ Content of Press Release: Newsworthy announcements ideally in 350-400 words.
Boilerplate: A press release boilerplate (also known as an "about us" statement) is a short, one-paragraph description of your company/ project at the end of a press release followed by a link to your website.
Press/ Media Contact: Contact Name, Designation, Email
You may check this PRESS RELEASE as a template to get started.
Checklists
Press Release should be sent in Word doc as an attachment or in the email message body.
Featured Image: Size (1280px*720px; Format JPG, PNG). [as an attachment]
Subject line – Press Release
When would you like this to be published? Mention – immediate or on a future date (specify the date)
Submit to info@alexablockchain.com
Not sure how to format your press release? Just get in touch with us and our PR experts will help you with your first PR creation absolutely free.
Send your complete Press Release for review at info@alexablockchain.com