United States, March 5, 2021 /AlexaBlockchain/ – The City of Reno is developing its own DAO (Decentralized Autonomous Organization) – 'Reno DAO' – and a token – 'Reno Coin' – on top of the Tezos blockchain network. Reno has also planned to digitize famous art pieces in the form of NFTs (Non-Fungible Tokens), starting with the Burning Man's 'Space Whale' sculpture.
Hillary Schieve the Mayor of Reno, alongside Theodore Clapp who is in the initial stages of designing the 'Reno DAO' project, announced on the Tezos Commons "Tez Talks" podcast that the "Reno DAO" (DAO, meaning Decentralized Autonomous Organization) will be built on Tezos.
Why did the city of Reno decide to develop Reno DAO on Tezos?
Theodore Clapp explained some of the reasons why the city of Reno decided on Tezos when it came to building its DAO:
"I went to Coinmarketcap and went down the list investigating the different blockchains and the technologies that were available, to actually develop a DAO, because I was trying to find the best platform for scalability, fees, long-term sustainability. So, I eventually got down to Tezos and they have so many resources, frameworks… Like the Homebase DAO framework, that's going to be very important… so I eventually decided on Tezos."
As the city of Reno is representing its citizens it is crucial that the most suitable blockchain was selected for a number of reasons. A lot of the reasons are based around the security, sustainability and the longevity of a blockchain as Theodore Clapp went on to state:
"One thing that's very important about a government project is formal verification, for verifying the correctness of your code. The nature of the Michelson language, is a very strict statically-typed language…everything is figured out at compile time, so it's really helpful in that sense. And of course, fees and the on-chain governance model are things that we really like.
The Delphi update slashing gas (fees) 75%, just those sort of things, give you an idea that it's safe to build your product on it and you don't have to worry about gas spiking to some unreasonable amount, stopping users from being able to participate, because the eventual end-user is Reno citizens and I don't think they are going to be wanting to be dropping $20-$100 on gas to participate in something, so it's important to have a protocol that's able to adapt."
Why City of Reno is Building The 'Reno DAO'?
One of the reasons behind the Reno DAO is to help bring transparency to government affairs. For Mayor Schieve it goes even further than that:
"I really want to create a local economy that can benefit all of my citizens…A community of things that we can all own together in our city and be able to monetize that. And look at ways we can really benefit each other in our local economies.
Teddy talks about the equality and I think that's really important, right, so we're all on the same playing field, and we are all reaping the benefits of something like this.
…We could even be sharing solar energy and think about how efficient cities could really become and how much money they could save becoming so efficient and that's only going to benefit our entire community and the residents that live here."
Theodore Clapp went continued:
"Some ideas we've been discussing, are some sort of property… the Mayor told me earlier… She'd look into finding potential properties, that people could rent and the city could lend to people, then the payments for paying that rent would go to and distributed through the DAO to token holders, would sort of receive a share of income that DAO is generating.. So it's about just slowly digitizing the Reno economy."
Role of 'Reno Coin' in the Reno economy
When asked how the 'Reno Coin' will play a role with the Reno DAO, Theodore Clapp Explained:
"Obviously structured in a much different way the behaviour is similar to buying shares in a company, the more Reno Coin you have, the more ownership of the DAO you have, which would be the Reno economy. That's why we want to equally drop it to the Reno citizens, so everyone has an equal share of the DAO, of course they can sell it if they want to.
So, it's purely an ownership based thing, so when there is things like rewards from rent, payments from property, or NFTs (digital art as non-fungible tokens).
The DAOs going to grow and evolve and there's going to be different income streams as it grows, but just paying a portion back to the proportion of the supply of Reno Coin each citizen owns is the idea"
Reno to Digitize Famous City Art Pieces As NFTs, Starting with The 'Space Whale'
Not only are the city of Reno creating a DAO on Tezos, they are also digitizing famous art pieces on the blockchain starting with the Burning Man's 'Space Whale' sculpture.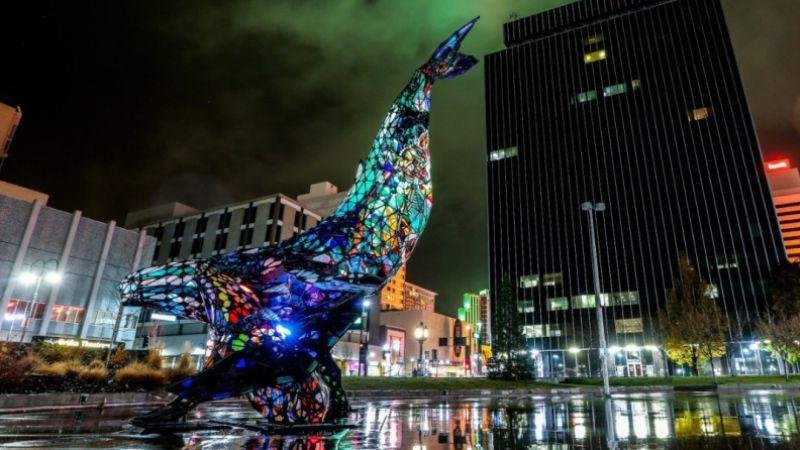 Mayor Schieve is also looking to encourage mayors in other cities to digitize their art pieces and stated:
"I'm super fortunate in the fact that I get to represent mayors across the country for tourism, arts, parks, entertainment and sports …so I've been trying to liase how we can monetize art in cities and you guys are the first to hear it today, but we are doing a partnership with Tezos (TQ) to create the first NFT
… A burning man art piece, it's a whale, it's called the 'Space Whale', it's a really impressive piece… And then we'll work with other cities with some of their most famous art pieces to digitize them… We're super excited.
Look at the NFT were going to create with Tezos for this NFT and being able to try and raise money for this amazing art piece that we have we have and looking at other art collections around the country of some of the most notable art that you guys are very familiar with when you go and visit a city.
I think there are just endless possibilities, but we've got to start being bold and we've got to start realizing that this technology will really start transforming cities in the future."
Mayor Schieve was full of admiration for the Tezos blockchain and went on to state:
"I was so impressed with what they've doing and how much they are doing. And I also think they are not sort of this 'hype', they are really 'doing it' and creating things that are sustainable. So I think they're really leading the way on so many different levels…I'm just fascinated by the technology and how it will truly transform cities."
Source: XTZ News
View source version on xtz.news
News URL: https://xtz.news/dao-news/the-city-of-reno-to-create-the-reno-dao-on-tezos-and-digitize-famous-art-pieces/