Magic Eden, the leading cross-chain NFT platform, is set to open a Launchpad for creators looking to inscribe Ordinals on Bitcoin on April 7, 2023. The platform is expanding its capabilities by offering a safe and secure space for creators to launch their collections.
The Launchpad will support four blockchains, including Ethereum, Solana, Polygon, and Bitcoin. Since the launch of its Bitcoin NFT marketplace on March 21, 2023, Magic Eden has become the top marketplace for trading Bitcoin inscriptions with up to 70% market share.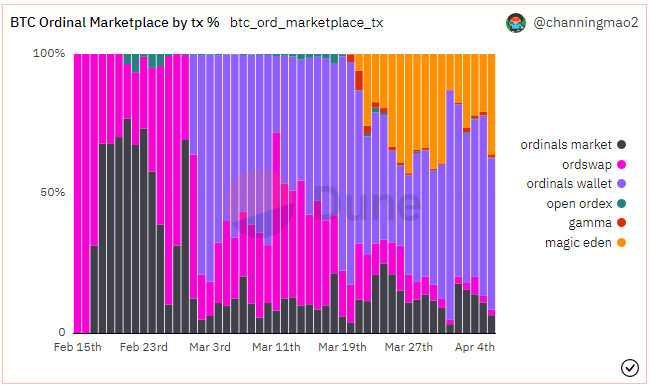 The platform has served over 500 creators and raised over $150 million on behalf of creators, Magic Eden told AlexaBlockchain.
Zhuoxun Yin, COO and co-founder of Magic Eden, believes that Bitcoin can be the home to pure digital artifacts.
With Ordinals, content can be preserved forever. Magic Eden aims to foster the growth of a growing Ordinals society and bring together a community of enthusiasts from other native chains.
Its launch partner, Godjira, an established ETH collection, is scheduled to go live on Magic Eden on April 7 with their (Dead)jira Legacy mint. Four other creators, including Genopets, Lazy Lions, Lil Durk, and Humanoids, will be launching Ordinals on the platform within the first week of it being live. Genopets will be the first game to launch Ordinals on the platform.
A growing Bitcoin Ordinals ecosystem means that digital asset collectors and traders are interested in the value the digital artifacts provide and are looking for a user-friendly encounter when first interacting with inscriptions.
Magic Eden said that it aims to educate and raise awareness about Ordinals through its collections to a wider audience. The team hopes to further advance the Ordinals ecosystem and is stepping in to offer a way for creators to easily launch their collections.
The platform has a reputation for quality and trustworthiness and believes that its launch is not only beneficial to Godjira's community but also the entire Ordinals space.
Bitcoin inscriptions have become increasingly popular in recent times, as creators and collectors look for new ways to preserve and trade valuable digital artifacts. One such example is the collaboration of luxury brands Bugatti and Asprey, which has resulted in a limited-edition collection of precious metal object eggs called the Asprey Bugatti Egg Collection. This collection, which includes the Royale Edition, is produced using cutting-edge production techniques and materials from Asprey Studio and is backed by Bitcoin NFTs. This is just one example of how Bitcoin inscriptions are being used to add value and security to unique digital assets.
Read Also: Yuga Labs' TwelveFold Bitcoin NFT Collection Auction Nets $16.5M