Key Takeaways
CyVers, a provider of proactive Web3 Security for CeFi, DeFi and smart contract applications, has raised $8 million, led by Elron Ventures.
In the $8M fundraise, lead investor Elron was joined by Crescendo Venture Partners, Differential Ventures, Cyber Club London, and HDI digital innovation.
CyVers is led by seasoned security and technology entrepreneurs who are looking to protect fellow crypto-enthusiasts in the Web3 space.
CyVers identifies attacks and frauds, and carries out corrective measures within milliseconds.
Israel-based web3 security startup CyVers has raised $8 million in a funding round led by Elron Ventures. This funding round also attracted investment from Crescendo Venture Partners, Differential Ventures, HDI, Cyber Club London, and Cyber Future.
CyVers is building a proactive Web3 Security for the CeFi, DeFi, and smart contract applications via detection and interception of crypto attacks across blockchains.
The cybersecurity firm which was founded earlier this year aims to bring proactive security to Web3 Economy, paving the way for mass adoption.
CyVers uses a combination of domain expertise and geometric ML. "Taking a first-of-its-kind hybrid approach, CyVers, is introducing high standards to web3 security orchestration, automation, and response," said Deddy Lavid, Co-Founder & CEO.
CyVers mentioned that it is building agentless, plug-and-play, scalable, and highly accurate solutions to detect suspicious behavior. This enables CyVers platform to capture transactions during the few moments between the time a transaction is broadcasted and when it is registered irreversibly to a blockchain ledger.
"Moving away from blacklists, code auditing, and fund tracing, CyVers identifies cyber-attacks and carries out corrective measures within milliseconds," the company told AlexaBlockchain.
Why is this so critical? This is critical because – in 98% of the cases – crypto exchanges, DeFi protocols, and custodians are not alerted about the fraud until after it has been immutably registered.
Meir Dolev, Co-founder & CTO, said:
"CyVers' platform collects cross-blockchain data, streaming it to our sophisticated monitoring system. Our analytics engine predicts evolving attacks while autonomously understanding attacker behaviors. These include smart contract exploits, private key leakage, Flashloans, etc."
"Once it detects the evolution of an exploit pattern, the AI system generates alerts while providing enough time to act and the best-known solution, before the exploitation and money laundering progresses," Meir added.
CyVers founders are seasoned cybersecurity entrepreneurs. Deddy Lavid, CyVers Founder, holds 11 patents in automated anomaly detection, sold his start-up, Presenso, to SKF as founder & CTO and later served as the CEO of the Israeli subsidiary, where he led hundreds of engineers and dozens of AI products.
Another Founder of CyVers Meir Dolev led a start-up as CTO and later served as VP of R&D for the acquirer. In 2020, Meir joined Deddy to revolutionize the analytics space and establish four global development centers.
"CyVers has already secured customers such as Bit2C, Solidus Capital, and CoinMama, among others," the company mentioned in a statement shared with AlexaBlockchain.
"The profiles of our customers require absolute security, and CyVers provides excellent alerts about malicious activity," Said Bit2C CEO, Eli Bejerano.
Since the 2020 crypto rush, the market has been struggling with liquidity, volatility, and a lack of trader trust. According to blockchain data platform Chainalysis, cross-chain bridge hacks have accounted for 69% of the total crypto funds stolen, amounting to $3.5 billion in losses YTD.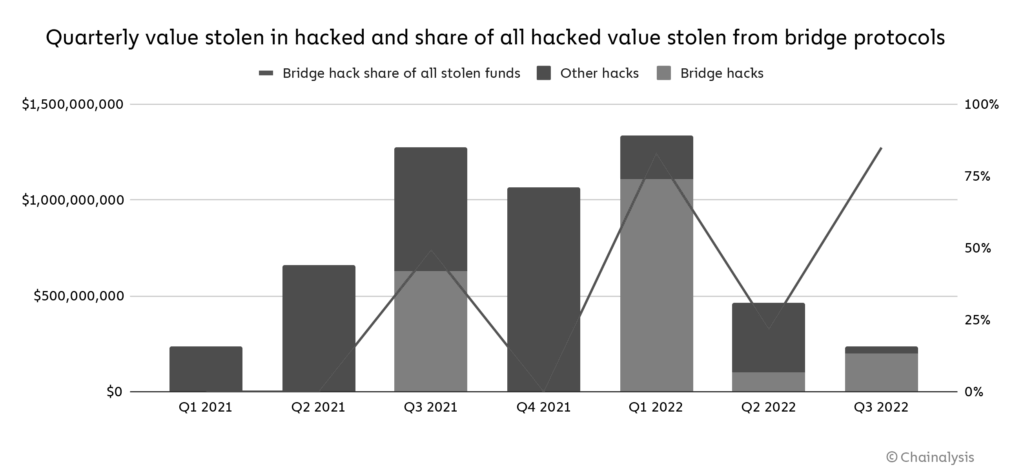 Elik Etzion, Managing Partner at Elron Ventures (the lead investor in the round), said:
"We screened many teams in the web3 cybersecurity space. We feel privileged to partner with Deddy and Meir, second-time entrepreneurs that blend expertise from blockchain security with graph neural networks, and DeFi trading."
"CyVers will dramatically reduce the number of attacks and bring a safer crypto economy," Elik added.
The growing incidence of hacking in the web3 space has increased the importance of cybersecurity firms in the space. This is why, we've seen several web3 cybersecurity firms receiving venture capital investments.
In December 2021, cybersecurity startup Certik raised $80 million Series B2 financing round led by Sequoia. It was not only the largest single round of fundraising in the blockchain security space but also brought CertiK's valuation to nearly $1 Billion.
Another web3 cybersecurity startup Silence Laboratories recently raised $1.7 million in a seed funding round led by Pi Ventures, and joined by web3 centric funds such as imToken ventures and prominent angels like Daniel Ari Friedman, Mahin Gupta, CK Vishwakarma, Priyeshu Garg, Ashish Tiwari, among others.
Read Also: Gaming Firm Midnight Raises $7.5M Seed Financing Led By Shima Capital