Emergents TCG is a Tezos-based Trading Card Game that empowers players to own their in-game items.
An Initial Emergents TCG Review
Emergents is a Trading Card Game (TCG) that was preceded by a comic book series that introduces characters from the game.
The Emergents TCG team consists of Magic The Gathering all-starts, hall-of-famers, and developers. The team also includes writers and creators of Marvel Comics and organizers of TCG tournaments. Emergents just launched and it is world-class.
Writing this review didn't go smoothly. Sometimes (although rarely) the subject of an article just doesn't spark much enthusiasm and the writing progress can take a bit longer than it should, but writing this review for Emergents was quite the opposite.
In this case, the reason that it took a lot longer than anticipated, was because once I started playing PVP (player versus player) matches, I just couldn't stop playing. I'm not exaggerating here, I've actually made it to the top 10 ranked by amount of wins.
Before I started playing PVP matches, I already had played a lot of matches against the bot and learned how to build powerful decks.
Although the AI behind the bot is pretty decent (and seems to evolve), playing against an actual human opponent is just something else entirely.
The possibilities are endless and opponents continue to surprise you with unexpected tactics and creative strategies.
Some cards just don't seem that interesting until you've had someone use it against you at the right moment, turning the odds against you instantly.
One thing I've learned playing pvp matches: never assume victory until the game is over.
So, if you're about to jump into Emergents for the first time, you're in for a treat. You can totally play this game for free by the way.
Some cards are only available as NFTs but most are both available as free cards and NFTs. If you want to check the game out before you spend any money on cards, you won't have much of a disadvantage playing free cards at this moment.
The NFT versions of the cards open up quests (a feature that is not active yet), which allow you to unlock achievements and unlock new art while increasing the rarity of your cards.
First tip: Go through the tutorial learning section in the game. It's just a 5-part tutorial and it doesn't take long at all, but you'll learn the basics that you really need to know before you start playing.
Once you've done that, just start playing the "Random Bot Matches". This allows you to really get the hang of it and find out which cards you like.
Cards have powers, actions, and traps and some are enhanced in combination with other cards that you can play.
I was thinking about getting into gaming specifics, but a flat explanation of the game would come across as complex, while it's not that hard to play and the tutorial does a better job getting you started.
Once you've got the basics covered, let it be known that Emergents is as advertised: easy to learn, but hard to master. This basically means that it's fun to play right from the start, but does not become boring after you've played a bunch of games.
Second tip: If you want to get into a PVP match but no other players are currently online, you can just place yourself in the queue and right after that, start a random bot match.
Your spot in the queue will remain active and once you've matched with another player, the bot match automatically stops and your PVP match starts.
This way you will be able to play while you wait for a PVP match.
Tournaments
Emergents is a great game to watch as well. The strategies and the moment at which you play certain cards and activate certain action cards can flip the odds in a game.
Watching these plays unfold can be loads of fun too. This means that the anticipated tournaments will be fun for both players and spectators.
Tournaments are also expected to be a way to cash in on your skills.
(Crypto) cash prizes could be part of tournaments and Block Born are said to be exploring a possible Emergents partnership/collaboration.
First player reviews
Emergents is a blockchain-based game, which draws in a mixed crowd. Crypto/ NFT enthusiasts are drawn in through Tezos. Comic book fans through the comic book series. And TCG players are drawn in through the game mechanics. The first user reviews are highly positive and promising: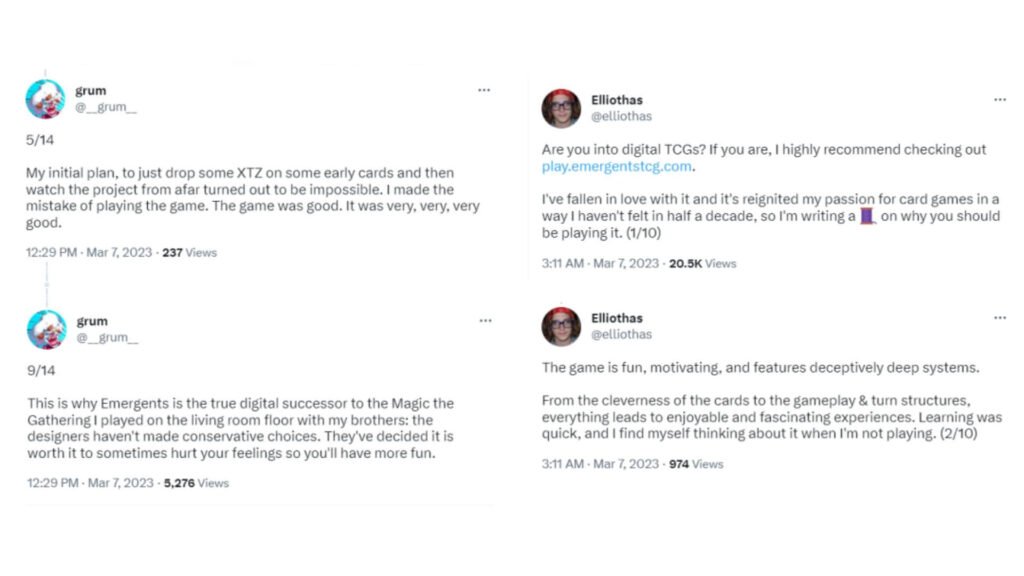 Read Also: Big-Name Creators Make Emergents Comic Book Series A Masterpiece
This article first appeared on XTZ.news. Source Link here.