This new contract enables traders to take positions in the competition for market cap between Bitcoin and Ethereum
Traders that hold Bitcoin can diversify their exposure with XBTETH and generate passive income through staking options
Mahe, Seychelles, August 2, 2023 / AlexaBlockchain/ – BitMEX, the world's leading crypto derivatives exchange, has launched XBTETH perpetual swap, the world's first Bitcoin margined inverse perpetual swap. BitMEX traders will be able to take a position on the ratio between Bitcoin (XBT) and Ethereum (ETH). The contract is margined in Bitcoin and offers up to 100x leverage. Building on BitMEX's legacy of innovation, the latest contract exemplifies the company's ongoing efforts to introduce new crypto derivatives products for professional traders – both current and others seeking them.
XBTETH is suitable for traders who wish to profit from the competitive dynamics between the two dominant cryptocurrencies. Traders can anticipate fluctuations in the XBT/ETH pair and take long or short positions respectively. Meanwhile, Bitcoin holders can utilise the XBTETH contract as a hedge whilst earning Ethereum staking yield, opening up new avenues for strategic portfolio management and passive income.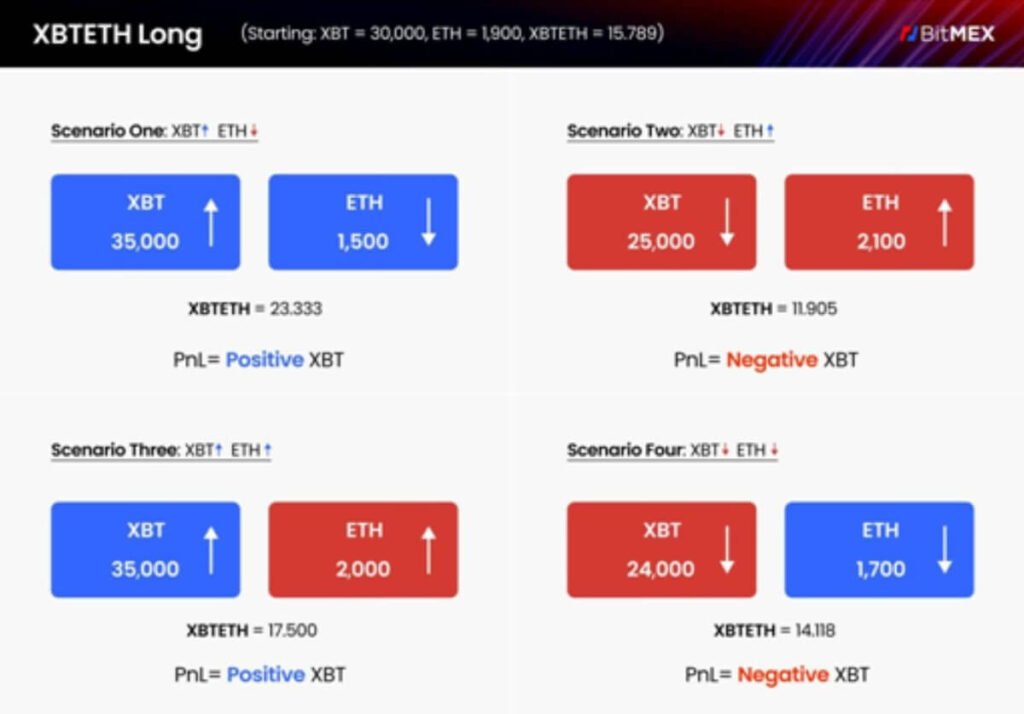 Since the XBTETH contract is Bitcoin margined, traders can open positions based on the XBT/ETH ratio. Each contract is worth 0.01 ETH and settles in Bitcoin. Similar to other crypto derivative contracts on BitMEX, XBTETH offers up to 100x leverage, allowing traders to tailor their positions to suit their risk appetite. The latest contract is relatively low volatility, presenting an ideal scenario for traders to take up higher leverage or maintain their positions for the medium to longer term.
Stephan Lutz, CEO & Group CFO of BitMEX, said, "As a trader-centric platform, our perpetual swap products are ideal for traders who leverage derivatives without the constraints of expiry dates. The introduction of the XBTETH perpetual swap presents an optimal opportunity for our traders to fully utilise and explore innovative trading approaches. Following the overwhelmingly positive reception of both Guilds, our new social trading feature, and the Affiliate Programme with a higher 45% commission opportunity for members, this reaffirms our progress in advancing BitMEX's products and features, motivating us to continue developing cutting-edge tools that empower our traders to achieve even greater success."
Adapting to the evolving demand in the crypto market, BitMEX most recently updated the Affiliate Programme for all BitMEX Affiliates to earn up to 45% commission and BMEX Tokens by leveraging their community, connections and influence. As part of BitMEX's ongoing focus to provide both existing and new users with a suite of tailored crypto products and services for professional traders, this launch will unlock new trading strategies and enhance BitMEX's versatility as a whole.
About BitMEX
BitMEX is the leading crypto derivatives exchange, providing professional crypto traders with a platform that caters to their needs with low latency, deep liquidity and unmatched reliability.
Since our founding, no cryptocurrency has been lost through intrusion or hacking, allowing BitMEX users to trade safely in the knowledge that their funds are secure. So toothattheyhaveaccesstothe products and tools they require to be profitable.
BitMEX was also one of the first exchanges to publish their on-chain Proof of Reserves and Proof of Liabilities data. The exchange continues to publish this data twice a week – proving assurance that they safely store and segregate the funds they are entrusted with.
For more information on BitMEX, please visit the BitMEX Blog or www.bitmex.com, and follow Discord, Telegram and Twitter. For further inquiries, please contact press@bitmex.com.
Source: BitMEX
Submit Your Blockchain and Crypto Press Release here.