India, Nov. 26, 2020 /AlexaBlockchain/ – Bitcoin and other cryptocurrencies plunged on Thursday and same trend followed on Friday, while crypto enthusiasts speculating new records for Bitcoin and other major cryptos.
Bitcoin reached US$19,389.68 on November 25, 2020 (as reported on Coinmarketcap.com) before slumping below US$17,000. At the time of writing, Bitcoin was trading at US$16,681.30.
As per Coinmarketcap.com data, Bitcoin (BTC) slumped as much as 12% in the past 24 hours, while other digital coins like Ethereum (ETH) and Ripple (XRP) declined 16% and 28%, respectively.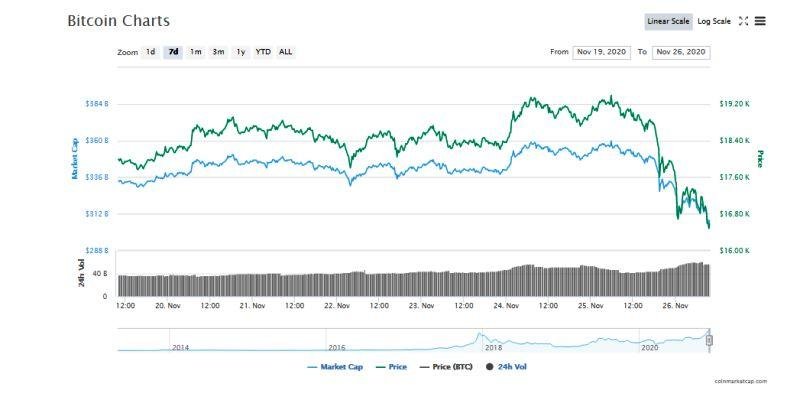 Ravi Kumar, Market Analyst at AlexaBlockchain, said:
"A correction in the market is always anticipated after a sharp rally. So, this price drop is not surprising for me. Cryptocurrency market has become more credible now and I anticipate a big all time highs in the next 2-3 months."
Even after this drop, Bitcoin has more than doubled this year and looks strongly moving towards US$20,000. Crypto believers tout growing interest by retail investors, institutions and even billionaires, as well as the search for a hedge against dollar weakness, as reasons why the boom can last.